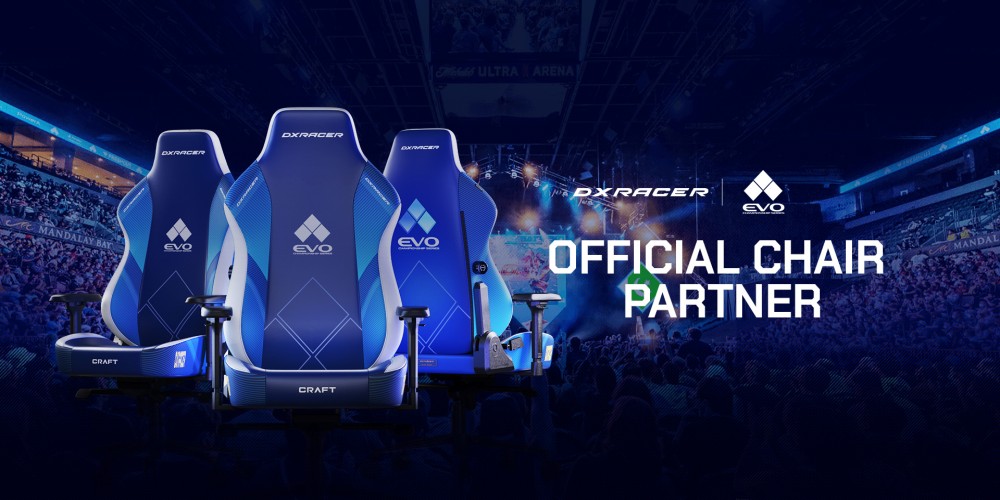 DXRacer USA. Whitmore Lake, Michigan – Aug. 4, 2023
The largest fighting game tournament Evo in the world returns. We are pleased to announce that DXRacer is the official gaming chair partner for the Evolution Championship Series 2023 (Evo for short) Aug. 4—Aug. 6. Level up your gaming experience with DXRacer Gaming Chair EVO Edition and take the fighting game scene to a whole new level of epicness!
About Evo
The Evolution Championship Series (Evo) represents the largest and longest-running fighting game tournaments on Earth and brings together the best of the best players. This legendary event is the grandest stage for fighting game enthusiasts from all corners of the globe and showcasing the world's strongest fighting game players in all their glory.
Evo runs from Friday, August 4, 2023, through Sunday, August 6, 2023. Friday and Saturday take place in the Bayside D, E, and F Exhibit Halls in the South Convention Center at Mandalay Bay. On Sunday the exciting Evo 2023 Arena Finals take place in the Michelob ULTRA Arena! Both venues are within walking distance of each other and are located at 3950 S Las Vegas Blvd, Las Vegas, NV 89119.
For the first time ever at Evo, all tournaments in 2023 will now feature a $25,000 minimum prize pool. The prize money is split between the top 8 finalists in each tournament, with the exception of Street Fighter 6 which will payout the top 16.
The eight fighting games that will be featured at Evo on August 4-6, 2023 are:
Street Fighter 6 - PS5 (Capcom)
Guilty Gear -Strive- PS4 (Arc System Works)
Mortal Kombat 11: Ultimate - PS4 (Warner Bros. Games)
TEKKEN 7 - PS4 (BANDAI NAMCO Entertainment)
THE KING OF FIGHTERS XV - PS4 (SNK)
MELTY BLOOD: TYPE LUMINA - PS4 (Lasengle)
DRAGON BALL FighterZ - PS4 (BANDAI NAMCO Entertainment)
Ultimate Marvel vs Capcom 3 - PS4 (Capcom)
About DXRacer
As the pioneer premium brand of gaming chairs, DXRacer introduced the world's first gaming chair in 2006, known as the Formula Series, marking a groundbreaking milestone in the gaming industry and establishing a legendary status for gaming chairs.
In 2013, DXRacer made its entry into the U.S. market, establishing its headquarters in Michigan. DXRacer further strengthened its presence by sponsoring renowned gaming tournaments like MLG, UMG, LPL, LCK, and forming collaborations with top Esports organizations such as Faze Clan, SKT T1, Samsung Galaxy, among others. Notably, DXRacer partnered with prominent brands like Monster Energy, Facebook Gaming, Sony, Razer, and Twitch to create custom seats. Its influence extended to Hollywood, making appearances in major sports, movies, and TV series, captivating a vast fan base.
From the original gaming chair (Formula Series) to the present, DXRacer has spent over two decades researching and developing its gaming chairs. Presently, DXRacer boasts an extensive network of 200 resellers, offering a diverse range of 1,000 products. With a vast following on social media and a substantial user base spanning the globe, DXRacer has reached millions of individuals worldwide.